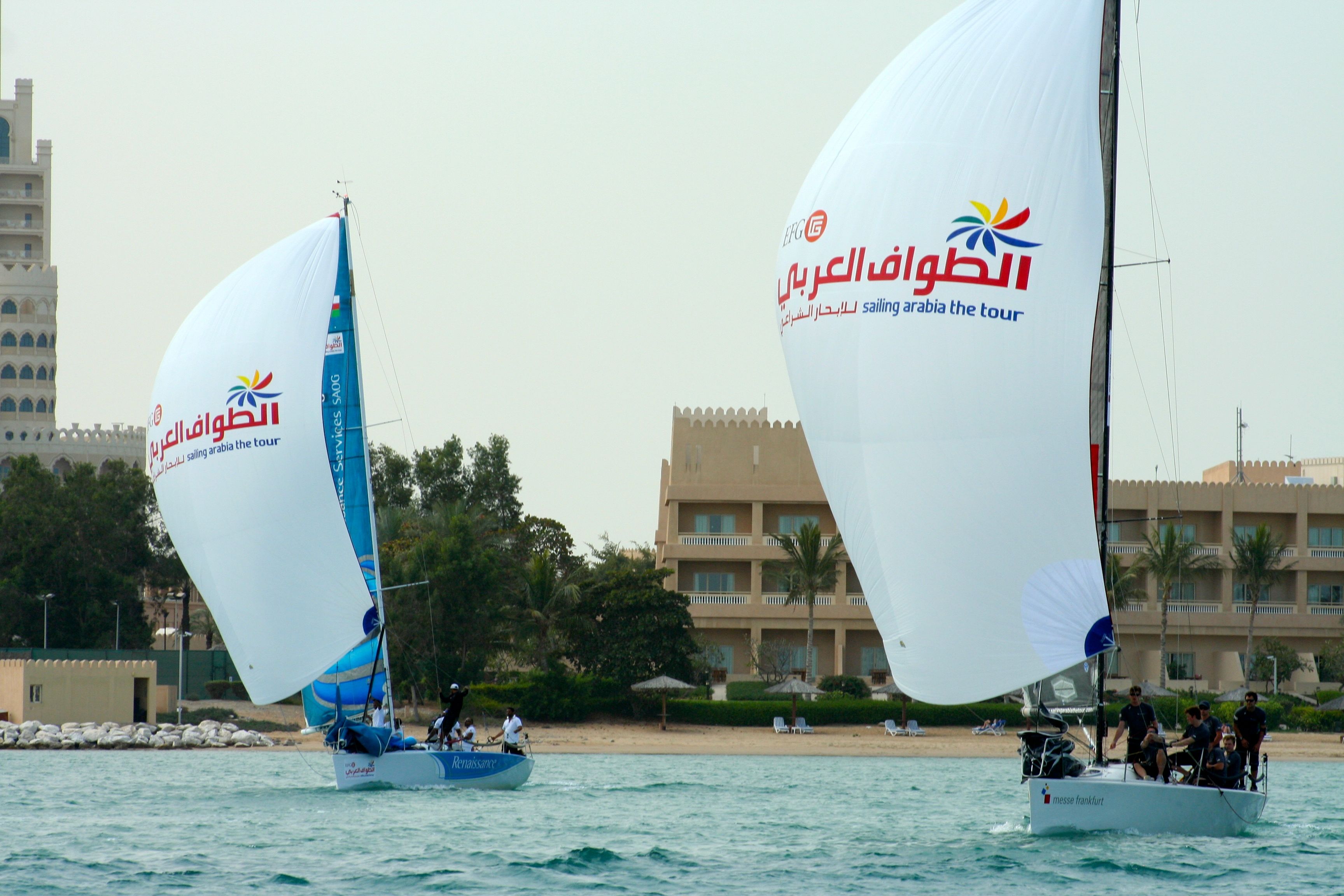 Young Messe Frankfurt crew finish just a minute behind pro team EFG to come second in leg five of EFG Sailing Arabia The Tour
Messe Frankfurt, crossed the finish line in second place in the fifth leg of Sailing Arabia The Tour, just a minute behind winners EFG. The 100nm race which took the team from Ras al Khaimah, UAE to Zighy Bay, Oman proved to be one of the most difficult, but also most enjoyable legs of the tour and the Messe Frankfurt crew proved that they have the skill and determination to maintain their impressive second position overall.
Messe Frankfurt had a very good start to the race and held a sizeable lead for the whole of the first half of the race up to the tip of the Omani Peninsula. However, as the course narrowed and the wind dropped, the fleet bunched up as they squeezed through the Strait of Hormuz and the race effectively started again with every boat in the fleet taking a turn to lead the pack. As they drifted down the East side of the peninsula towards Zighy Bay, Messe Frankfurt managed to make back some miles and gain on the leaders. As they took their second place position, they approached the finishing line in the early hours of the morning and found EFG stalled just metres  behind the line. Here the two boats drifted neck and neck for a while before EFG got a lucky puff of breeze that pushed them over the line just a few boat lengths in front.
As a young team, the crew are extremely proud of their achievement in this tactically and physically demanding race,
"This was a tough race but a lot of fun. All of the crew worked extremely hard to keep the boat going in very changeable conditions and even when we found ourselves towards the back of the fleet, everyone kept their heads up and fought to bring us back onto the heels of EFG. We are very pleased to still be lying second overall and only a few points behind some of the best sailors in the world who we all look up to. We are certainly encouraged by our performance and it just spurs on to achieve even more." 21 year old Skipper Marcel Herrera.
The team go into the late stages of the event over eight points ahead of third place and just seven and a half points behind leaders EFG. They will race inshore at the stunning Zighy Bay in Oman on Friday 21 February and then head off for leg six to Mussanah on Sunday morning.