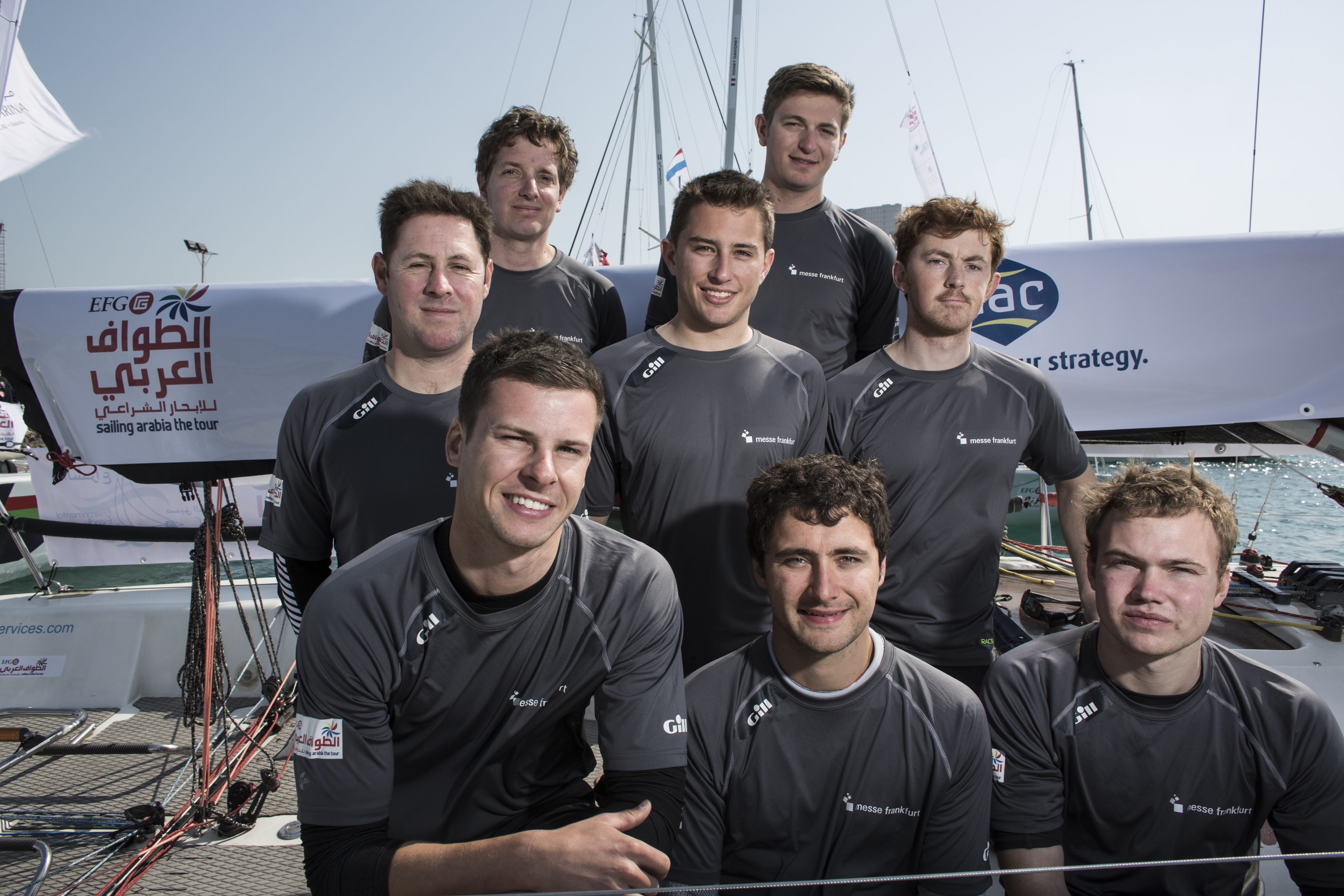 Sailing stars of the future achieve impressive second place at Sailing Arabia The Tour 2014
Yesterday, Monday 24 February, 21 Marcel Herrera and his young crew were presented the second place trophy for the EFG Sailing Arabia The Tour 2014. Sponsored by Messe Frankfurt, the team is made up of highly skilled and knowledgeable sailors who have challenged the winning team EFG throughout the event, finishing just a few seconds behind them in many of the event's offshore races along the Gulf coast.
Extensive boat preparation and an intense training programme for six months in the UK gave the crew the skills and knowledge they needed to achieve an impressive set of podium results at the event. A combination of their clean and quick manoeuvres, as well as good tactics on the race course, gave them the edge they needed to challenge favourites to win, Sidney Gavignet and his professional crew who are 20 years their senior.
The team, with an average age of just 26 has achieved an impressive amount of offshore sailing amounting to over a quarter of a million nautical miles and with world and national champions as well as course record breakers onboard, their varied skillset created a team that was fast, efficient and effective.
German born skipper, Marcel Herrera, wanted to achieve a podium result at this event and so is extremely proud of the outcome,
"We are ecstatic about getting second place in this event. We are a young crew, but all of our training and boat preparation in the UK has really paid off and we are very proud to have challenged the winning team who have many more years experience than us. We'd also like to thank Messe Frankfurt for all of their support as this result wouldn't have been possible without them."
The team will fly back this week to return to their studies and jobs in the UK but they have ambitious plans for the future and will soon turn their thoughts to the next sailing challenge on their agenda which will be revealed in the near future.