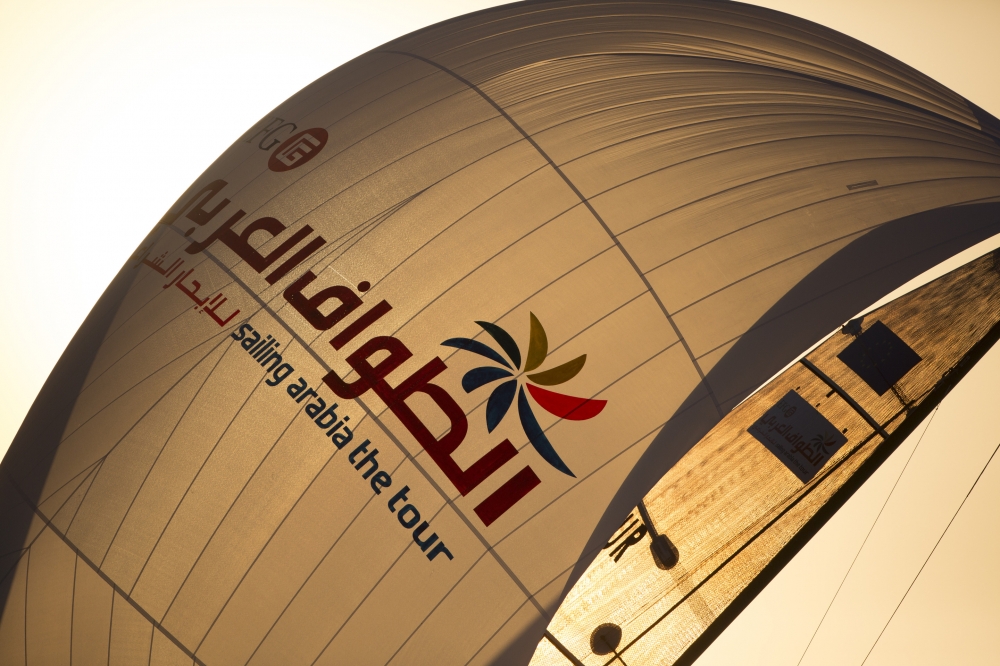 Messe Frankfurt wins offshore race and is guaranteed second place in Sailing Arabia The Tour
After fifteen days sailing along the Gulf coastline, Messe Frankfurt, skippered by 21 year old Marcel Herrera, has won the offshore race of leg 6 following a protest. This means that the team has secured at least second place in the EFG Sailing Arabia The Tour 2014 overall. A consistent set of second place results and now one first place in the offshore races has placed them just five and a half points behind first place and they are hoping to finish the event on a high with another offshore win in the final race to Muscat tomorrow.
Leg 6 of the tour from Dibba to Mussanah was a close race between all of the six competitors but Messe Frankfurt was battling it out with leaders EFG for a majority of the leg. Approaching the finish line, the wind was very light and once again the two front boats battled it out and Messe Frankfurt finished just 23 seconds behind EFG. However, further investigation of the sailing instructions revealed that all boats, except Messe Frankfurt, had not finished the course correctly. Messe Frankfurt were subsequently awarded first place and all the other teams were awarded two points each.
The young European crew with an average age of just twenty six have been challenging the leading team, EFG, throughout the event, finishing just seconds behind them on multiple occasions. The six months they spent training on their own Farr 30 in the UK has paid off and given them the ability to mix it up with sailors twenty years their senior. Despite being only 21 years old, German born Marcel Herrera has pulled together a team of highly skilled sailors who work together brilliantly and their steady and consistent performance on the water has impressed many.
Having just missed out on fourth place last year, Skipper Marcel Herrera was determined to get a podium result this time round and so is delighted to be in such a strong position for the last leg of the tour,
"We are so pleased to have won this leg and to have secured second place overall. All of the crew have worked extremely hard to get us here and pooled their knowledge and skills to create a fantastic team. We may not have the same years of experience as the EFG crew, but I think we've proved to everyone that we are still strong competition and we have the potential to win an event like this."
Tomorrow, Messe Frankfurt will leave Mussanah to race to Muscat, the last stop on the 760 nautical mile tour. The team now have a busy evening of navigation and tactics planning to make sure they have the best chance possible to get another win on the water.