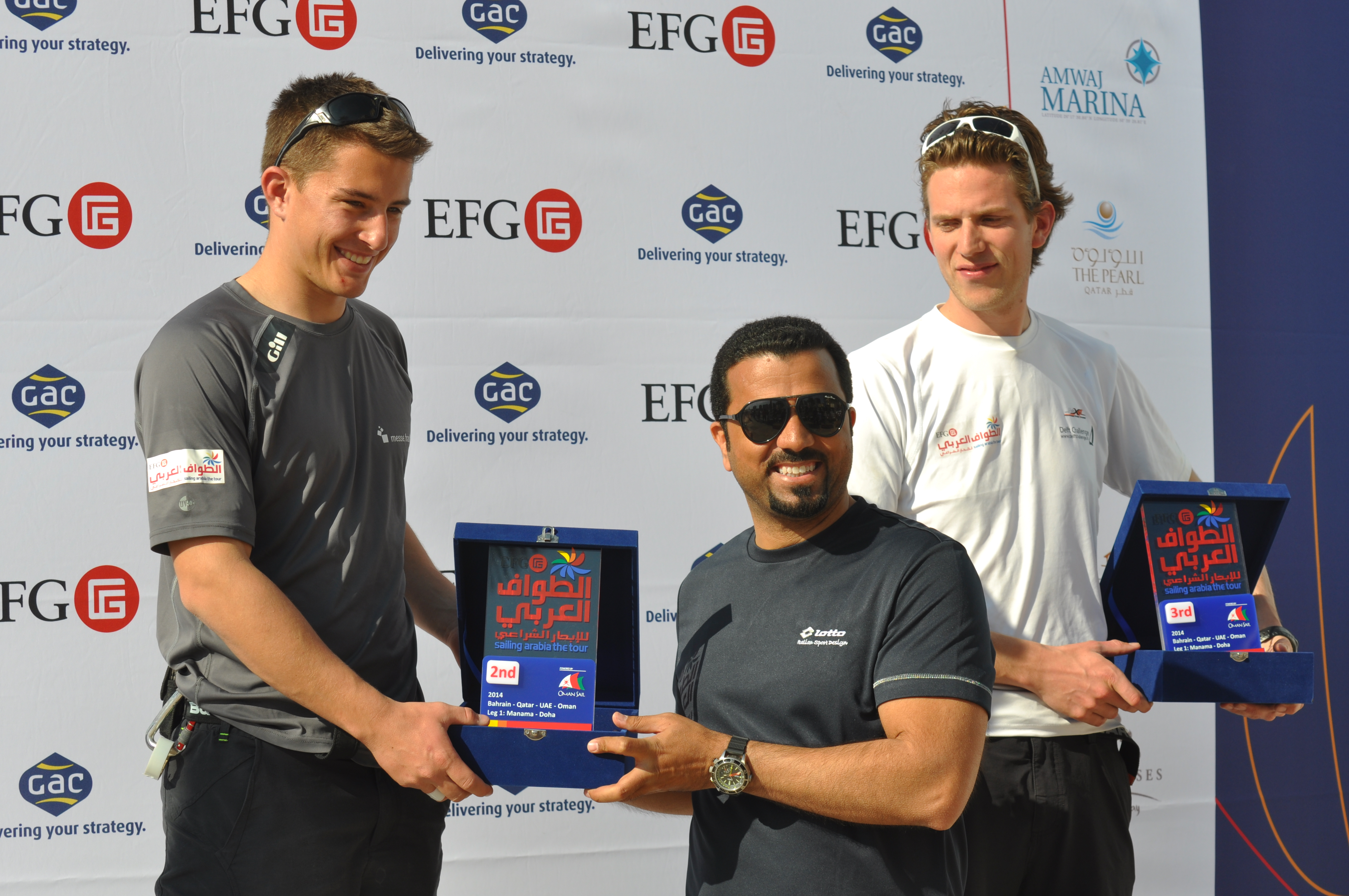 Another podium result for Messe Frankfurt in leg 2 of EFG Sailing Arabia The Tour
Today, Thursday 13th February, Messe Frankfurt finished leg 2 of EFG Sailing Arabia The Tour in third place with the students of TU Delft Challenge in first and EFG in second. This leaves the young team in second place overall.
Having won both in-port races in Doha, Qatar the previous day, the crew left the dock in high spirits for the start of leg 2. At 159 nautical miles, this leg from Doha to Abu Dhabi is the longest of the event and was certain to test their endurance and teamwork to the full.
The team started off well with a good start and were third to the first windward mark. They then worked the boat as hard as they could downwind and used the shifts to edge their way into first place by early evening. However, TU Delft Challenge had slightly more pace and so they were soon in a boat on boat dual as they screamed downwind at 15-18 knots towards Abu Dhabi in a fresh breeze. The boat was awash with water as the bow wave crashed into the cockpit against the kite trimmers.
Meanwhile, EFG had to stop to clear their keel of weed. The fleet then weaved their way through the oil fields and TU Delft Challenge took the lead as Messe Frankfurt dropped back into third place. But with less than half a mile between all of the boats it made for extremely close racing and the crew had to maintain concentration and focus to make the boat run as fast as possible.
Skipper Marcel Herrera is very happy with the result and is pleased to still be in contention for the top spot overall,
"This was a tough race but we're pleased to get another podium result. The crew worked the boat to the max and we even broke our top speed record downwind! We are on the heels of first place overall and we'll be making sure the crew are rested and ready to take on the inshore racing head on in a couple of days."
The team now have a well deserved two days of rest before they race inshore again on Saturday 15th February when they hope they can repeat their sterling straight wins inshore performance.