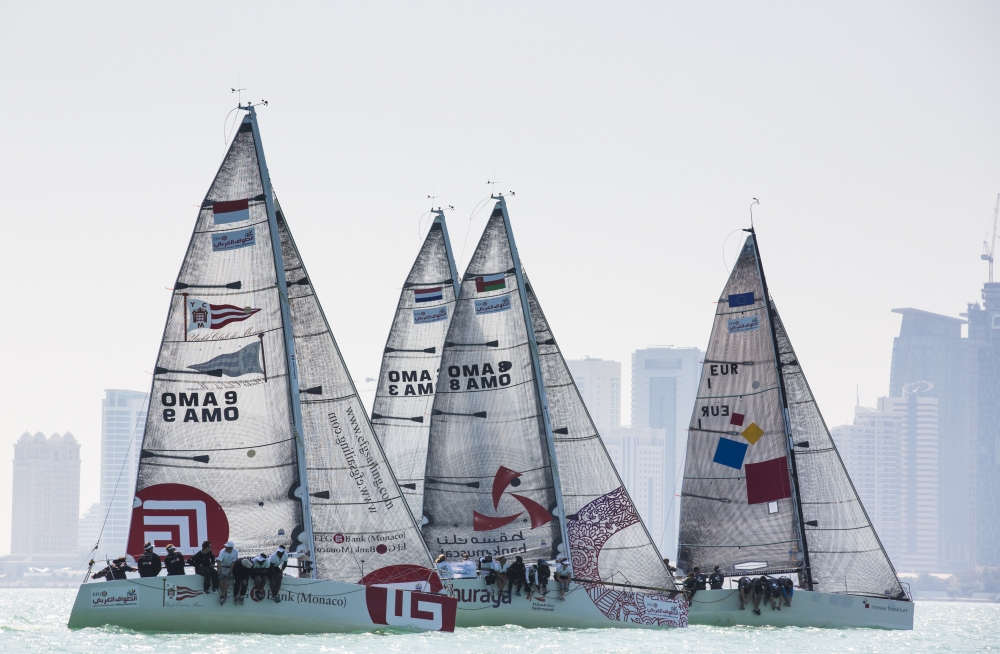 Messe Frankfurt in the fray for Sailing Arabia – The Tour 2014
Team comprised of a mix of youth and more experienced sailors set to challenge tough field
Leading international exhibition and conference organiser, Epoc Messe Frankfurt GmbH, is all set to further strengthen its ties with the world of sailing in the coming year. A team of talented sailors will represent Epoc Messe Frankfurt at Sailing Arabia – The Tour 2014, set to take place from February 9 to 24, 2014.
Following in the footsteps of their predecessors, who finished a creditable fifth in this year's sailing regattae with a stirringly determined performance, this year's team of youngsters, flying the Messe Frankfurt flag, are set to take on the best from the GCC and the world in Sailing Arabia – The Tour 2014.
As in this year's tour, the Messe Frankfurt team for 2014 will comprise of a number of youngsters from Europe, making their debut in the warm waters of the Gulf. This time though, the youngsters' high spirits will be tempered by the experience of some old hands.
"Messe Frankfurt's support of events such as Sailing Arabia – The Tour is part of our commitment to encouraging the spirit of competition and adventure among the youth of today. Our team of youngsters made everyone sit up and take note of their championship mettle with their performances earlier this year. We look forward to our 2014 team members doing likewise in the upcoming tour," said Ahmed Pauwels, CEO of Epoc Messe Frankfurt.
First established in 2011 by Oman Sail, Sailing Arabia – The Tour is designed to promote one of the region's fastest growing sports and revive interest in the rich maritime heritage of the Arabian Gulf countries.
The gruelling tour takes the sailors from the start in Manama, Bahrain, to ports in Qatar, UAE and the finish in Muscat, Oman. Apart from these legs, there are scheduled in-port races too which contribute towards the overall rankings.
Among the entries confirmed so far include a team of experienced sailors from Sweden, the TU Delft University team from the Netherlands, an Abu Dhabi entry fronted by Abu Dhabi Ocean Racing and Volvo Ocean Race veteran Adil Khalid, Team AISM led by previous race winner Bertrand Pace and under management from multiple Tour de Voile winner Vincent Portugal and EFG Bank Monaco, a Monaco entry led by Volvo Ocean Race veteran and round the world yachtsman Sidney Gavignet, Al Thuraya Bank Muscat led by round the world yachtswoman Dee Caffari as well as the Royal Navy of Oman entry.